25 Ways Schools Can Promote Literacy And Independent Reading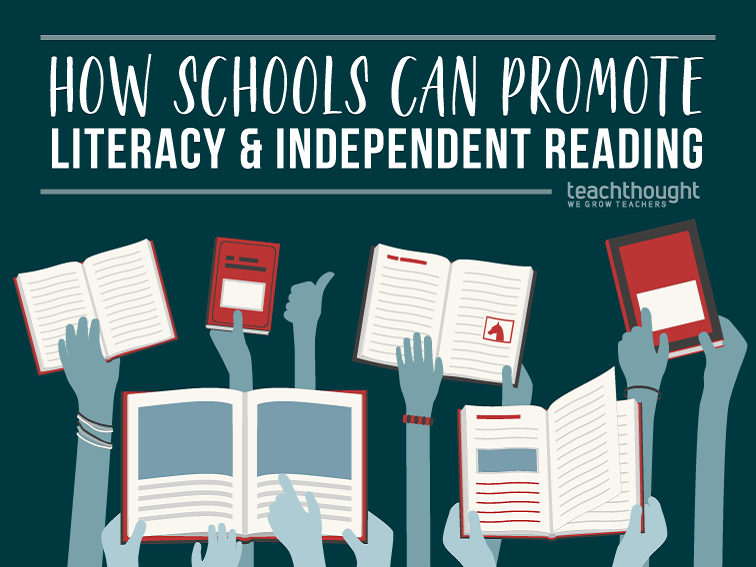 25 Ways Schools Can Promote Literacy Independent Reading 
contributed by Kimberly Tyson, Ph.D.
In the age of modern literacy and its emphasis upon having students take on more challenging text, independent reading and student choice can easily take a back seat to the demands of increased rigor. However, in a balanced literacy program, they remain important.
Motivation and choice play key roles in reading.
And, strong and capable readers are those who read widely and diversely in a wide variety of genres and text types.
In the quest to build capable readers, promoting independent, self-selected reading remains key. Creating ravenous, lifelong readers doesn't just happen, it takes a schoolwide culture to help reach that goal.
We want kids to read more. We want them to enjoy reading. We know that reading builds vocabulary, fluency, and background knowledge. So let's do our part to promote and encourage independent reading across our schools. Below are 25 ways schools can create a reading culture for independent literacy.
25 Ways Schools Can Promote Independent Reading
1. Set aside time for independent reading. Time for reading independently doesn't just happen. Plan for it by making it a priority in schedules across K-12 classrooms. You may need to get creative by stealing minutes here and there, but find at least 15 minutes a day (20 recommended) for self-selecting, independent reading.
2. Create Literacy-Rich Environments in every K-12 Classroom. A literacy-rich environment – full of print, word walls, books, and reading materials –  not only supports the academic growth, but also provides a setting that encourages and supports speaking, listening, reading, and writing in a variety of authentic ways – through print & digital media. Make it a priority for every K-12 classroom to be an inviting, print-rich environment that supports independent reading and student learning.
3. Support High-Quality Classroom Libraries. Students need access to interesting books and materials – both in print and online. When students are provided with well-designed classroom libraries, they interact more with books, spend more time reading, exhibit more positive attitudes toward reading, and exhibit higher levels of reading achievement (NAEP, 2002). Additionally, research-based classroom libraries support balanced literacy instruction. Support teachers in building classroom libraries through budget dollars, grants, and book drives.
4. Encourage Read Alouds. In the Becoming a Nation of Readers report (1985), experts reported that "the single most important activity for building the knowledge required for eventual success in reading is reading aloud to children." Not only did the experts suggest reading aloud in the home, but they also suggested reading aloud in schools. Read alouds not only allow teachers to model that reading is a great way to spend time but also expose students to more complex vocabulary than they typically hear or read.
And, that doesn't exclude reading to older students, too. Occasionally reading more difficult text aloud provides opportunities for rich discussion and vocabulary development. And, reading young adult selections such as The Fault in Our Stars (affiliate link) by John Green provides the background and context for meaningful discussions about current topics, too.
5. Create a 'Caught Reading' Campaign that features Teachers as Readers. Creating a school-wide reading culture is important to promote reading as a lifestyle. Students need to see their teachers as readers. Create posters of teachers and staff reading their favorite books and display them in hallways throughout the schools. You can also produce bookmarks that feature teachers' favorite book picks to help guide students as they select books for independent reading.
6. Invite Guest Readers into Classrooms. What better way to promote reading than by having guest readers read aloud to students. Invite parents and community members to select a book or article to read aloud and discuss with students. You can even make it fun by announcing them as 'mystery readers' and providing clues during the week to create anticipation for the guest reader.
7. Encourage Students to Read Widely. Sometimes students get in a rut and don't read beyond their favorite genre or author. Encourage students to read outside of their preferred genres. To build a wide vocabulary and broad background knowledge, students need to read in a wide variety of genres and text types. Through book talks, read alouds, and book displays, open students' eyes to new authors, genres, and text types.
8. Create a Twitter Hashtag for Sharing Books. Move beyond traditional book reviews by creating a schoolwide Twitter #hashtag such as #GESTitleTalk or #PS41FavBookswhere students and teachers write super-short reviews and highlights of recently read books. In addition, the librarian can create interest in books by posting new titles on the school hashtag. Teachers can create a classroom hashtag, too, such as #4thReads.
9. Host Book Clubs for Students and Parents. A community of readers sometimes happens naturally; however, book clubs are a perfect way to foster connectivity around books and reading. Students can even host their own book clubs within a classroom, grade level, or school.
Reading is important for parents, too. Host a book club at school or online to help create an adult community of readers and build strong parental support for reading.  "Books and Bagels" can be a perfect duo for an early morning book club.
10. Financially Support School Libraries. In an era of tightening budgets, the school library/media center needs to continue receiving financial support. While classroom libraries are vitally important to a balanced literacy program, media centers are as well. Each serves a distinctly different purpose in supporting readers. And, media centers should be staffed by licensed librarians who are experts in both children's literature and how to build and maintain a high-quality collection that supports independent reading, research, and instruction.

Advertisement
11. Collaborate with the Local Library. Work with the local library to learn about and support their programs, services, and resources for students. Invite them into your school so students can easily obtain a library card and learn about how the public library can support their reading and research needs.
12. Provide Opportunities for Summer Reading. The summer reading slide is real. Schools can play an important role in providing opportunities so that students read over the summer. Ranging from giving away books to providing summer library hours, there are many ways that schools can support independent reading during the summer months. 

13. Support Author Visits. Students need to learn about how writers get their ideas and turn those ideas into books. Author visits help make those connections visible for students. If your budget is tight, work with a local library or another school district to help financially sponsor an author visit. 

14. Sponsor a Young Author Conference. Along with author visits, a 'young author' conference provides a venue for readers to showcase their writing. Some schools invite an author and illustrator while showcasing student books. It's a perfect opportunity to connect reading, writing, and illustrating. And, parents and community members can share in the celebration of literacy.
15. Read what Students are Reading. Creating a culture of reading includes teachers, too. Students need to read, and so do you. As classroom teachers and librarians, it's important to help students find books that grab their attention and interest them. One of the best ways to accomplish this is to keep your book knowledge current.
It's not easy keeping current with new books in children's and young adult literature; however, there are many excellent book lists, reviews, websites, and blogs to steer you in the right direction. As you explore book lists, websites, blogs, and twitter feeds, I'm certain you'll find several that will become your favorites! And, students will benefit from your first-hand knowledge of books.
16. Host a Read-In. A combination of books, pizza, and p.j.'s party can be lots of fun! Be inventive. Invite parents, community members, and sports figures to be mystery readers read each hour. Wrap up new books and unveil them during the read-in. Invite a local author. A fun way to liven up reading.
17. Solicit Donations from Local Book Stores. In a day of tightening budgets, building classroom libraries can be a financial strain on schools and individual teachers. Local bookstores such as Half-Price Books often willingly donate books to schools. It can be a cost-effective way to build classroom collections of books to support students.

18. Share Books through BookTalks. Readers need to share books with one another. Book Talks are a perfect way for teachers and students to share books with one another. 

19. Create a Readbox to Promote Schoolwide Reading. A new display can do wonders to highlight favorite books, new releases, and best-loved authors. The 'readbox' is, of course, a play off of 'redbox.' It's a creative way to display books, create interest, and support reading choice.
Another possibility? A movie poster (using a movie poster template) but for books.
20. Host Reading-Related Events at School. Many schools host Scholastic Book events as a way to promote reading and to bring affordable books into the hands of readers. How about coupling the book event with a school play since many parents will be visiting your school?
Or, host a "Book Blast and Bar-B-Que" as Regional School District No. 6 in Connecticut recently did. According to Language Arts Coordinator Tracy Keilty @TraKeilty, the "Book Blast & Bar-B-Que" event recognizes K-8 students for the volume of reading completed over the summer as part of the Connecticut Governor's Reading Challenge. Superintendent Ed Drapp @edrapp  joins in on the fun (see image) as parents, students, and community members eat, dance, and celebrate reading!
The name alone makes me want to join the reading celebration.
21. Create Video Book Commercials. Creating videos is easier than ever and people love to do it. Have students, teachers, staff, and community members create book commercials promoting a favorite book or author. Display them on your school website or on a dedicated page for the library. If you have morning announcements through a production system, you could feature live book commercials or show recent entries.
22. Create Attractive Displays of Books. Feature attractive book displays throughout your school. Create book displays in likely and unlikely places such as the front office, principal's office, in classrooms, labs, display cases, and the school library. 

23. Encourage Students & Teachers to Write Book Reviews. Readers need to share books with each other in the form of book reviews. Experiment with the form. For example, short book reviews or snippets can be featured on a series of bookmarks. Longer book reviews can be displayed in the school library or classroom library or hosted online.

24. Partner with Parents. Schools can do their part to support and encourage reading; however, parents play a key role as well. Support parents by informing them of school library hours and resources available at the school and public library.
25. Host a Mystery Check-Out Day. Create a little mystery around books. Wrap selected books in brown paper and encourage students to check out a mystery book. After they check the book, they can unwrap it to reveal their selection. Mystery selections can encourage students – in a fun way – to venture further and try a new genre, author, or series.
25 Ways Schools Can Promote Literacy And Independent Reading
11 Underlying Assumptions Of Digital Literacy
11 Underlying Assumptions Of Digital Literacy
by Terry Heick
In understanding the shift from literacy to digital literacy–or rather to understand them both in their own native contexts–it may help to take a look at the underlying assumptions of digital literacy.
This means looking at what's changing, why it's changing, and what that means for education.
1. Schools should teach the content that matters most.
Put another way: We should promote the cognitive growth of the kinds of "things" that help people make their lives better.
2. People communicate through a variety of means chief among them reading and writing.
Put another way: Reading and writing are common and critical.
3. Literacy is about both skills (e.g., reading and writing) and understandings (e.g., when, why, and how to express and communicate ideas).
Put another way: Literacy isn't any one thing, but rather represents a person's ability and tendency to communicate and be communicated to.
4. Through practice, literacy skills will change with or without academic guidance. Thus, promoting literacy is a matter of transforming that reckless change to growth.
Put another way: Through practice, media users will, for better or for worse, 'get better' at communicating through technology. Through analysis, planning, modeling, scaffolding, and practice of our own, as educators, we can facilitate more strategic growth.
5. Literacy is unique in that it affects almost all other formal and informal learning, across all content areas, grade levels, and professional fields.
Put another way: Literacy is crazy important.
Advertisement
6. Digital technology changes literacy–becomes digital literacy.
Put another way: Technology isn't just about connecting; ideas are like fluid, adapting to the vessels that hold them.
7. Among these changes in the shift from literacy to digital literacy are the quantity, frequency, endurance, and tone of how we communicate.
Put another way: Abundance changes everything. When you can communicate almost any thought anytime, anywhere, things change. (See whimsy, snark, cyber-bullying, passive aggressiveness, skimming-abuse, devaluing of quality data and content, and other effects of this abundance.)
8. Holistically, then, literacy is literacy; on a more practical level, however, digital literacy creates slightly unique needs in terms of both skills and understandings.
Put another way: If literacy is different, what developing readers and writers need to know is different.
9. This could mean a lot of different things, from knowledge of the nuance of social media platforms (e.g., subtweeting), to acronyms, to quicker transitions between ideas, unique structures (shorter paragraphs) to social dynamics imposed on almost everything.
Put another way: It's complicated and only going to get worse.
10. Eventually this will produce new genres of literature and media (e.g., transmedia, gamified social experiences, blurring of video games and movies, blurring of blogs, books, and transcriptions, etc.)
Put another way: See #7.
11. For now, this requires educators to reconsider what it means to read and write.
Put another way: That means us.
11 Underlying Assumptions Of Digital Literacy; image attribution jennydowning
pay for essay writing
4 Ideas For Motivating Adolescent Male Readers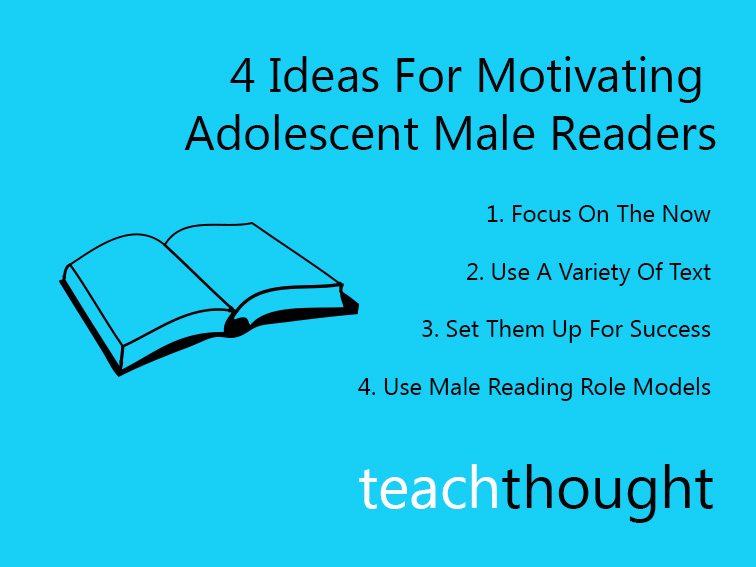 4 Ideas For Motivating Adolescent Male Readers
contributed by Kenny McKee
It's no secret that state and national assessments continue to indicate that male readers lag behind female readers in literacy and literacy skills.
The gap tends to grow larger as students enter adolescence. It's also no secret that many students dislike reading — in class or at home. Just ask a high school teacher…or a teenage boy. While it's not true that all teenage boys dislike reading, there is a growing trend of many becoming unmotivated readers.
Obviously, students who are resistant to reading are unlikely to get better at it. Here are four ideas for motivating adolescent male readers.
4 Ideas For Motivating Adolescent Male Readers
1. Focus On The Now
Oftentimes, teachers emphasize the importance of reading skills or reading content by saying, "You will need this for the test," or "You will need this for college," or "When you get to the real world, you'll need to be able to do this." Well, students are living in the real world right now and for the most part, they have real concerns about their lives that they want to solve.
Many boys (and teenagers overall) like to know how learning impacts their lives in the moment, and they are generally not concerned with how schoolwork relates to an unclear future. Focusing on the future can lead to procrastination, since, to young men, the future seems a long time away (Smith & Wilhelm, 2002). Also, teachers can lose focus on students' needs in the present.
We can make the reading we choose for whole-class instruction more motivating by relating it to the 'here and now.' Survey your students to determine what they want to learn, and select reading materials aligned with their interests. Have students—male and female readers—create products, presentations, or skits from their reading materials.
Many boys will readily engage in activities that ask them to create something meaningful or to perform for their peers. Also, consider designing inquiry units where students research answers to questions that concern teens, such as "Is the senior year of high school necessary?" or "Is love really all you need?" Weaving literature and informational texts around such topics can motivate many students, especially if students have some voice in what the inquiry topics will be.
2. Use A Variety Of Text
Advertisement
In some schools, there is a narrow view of what constitutes literacy. Even with the adoption of Common Core State Standards that emphasize informational text, the primary focus of secondary English language arts classes, especially in high schools, is often the study of literature. Male readers engage in many other forms of literacy that traditionally are not valued by teachers. Since many boys do not read teacher-privileged literary fiction texts at home, many of them classify themselves as non-readers, even if they do extensive reading from the Internet, magazines, and newspapers (Cavazos-Kottke, 2005).
One solution that can have tremendous positive effects on motivation is incorporating self-selected reading as part of the English language arts classroom. Conferring with students individually over self-chosen reading provides opportunities to validate and support boys' independent reading. Once you have learned a bit more about your male students' reading preferences, you can find texts with similar genres, themes, or topics to include in whole-class reading. You can also better select texts for a classroom library.
3. Set Them Up For Success
Many boys need to feel like they can accomplish a task in order to even attempt it. Thus, goals must be perceived as achievable in order for boys to feel competent. The most-motivating activities offer success and demonstrate evidence of growth (Cleveland, 2011).
Scaffolding and differentiation strategies can contribute to developing a sense of competence. For example, many teachers use Newsela, a site that allows the user to alter the reading complexity of recent news stories. Students can even self-select their own readlng levels based upon factors such as familiarity with the topic, their reading purpose, and their comprehension.
Another option for students is using social scaffolding techniques such as Say Something. Students can select reading partners and then take turns reading, frequently stopping to discuss their comprehension of the text. Sentence starters can be used to help students initiate those conversations.
4. Use Male Reading Role Models
Many educators believe that a 'Boy Code' that stems from an absence of positive male role models, the massive influence of the media's distorted images of masculinity, and the fear of being labeled 'feminine' impacts reading motivation. Because girls generally develop literacy skills at an earlier age, many boys perceive reading as a feminine activity. This perception leads to some boys shunning reading. Since they do not participate in school reading, they become less proficient at it, which perpetuates their lack of motivation (Cleveland, 2011).
Role models for male readers are important for infiltrating the beliefs of the 'Boy Code.' Many people point to the under-representation of males in the teaching profession, especially in English classrooms, as a factor giving the 'Boy Code' more power. Some studies have found that bringing successful men into schools helps. Some evidence of this claim is that boys in wealthier districts generally report reading more often and have higher reading assessment scores because their fathers are likely to have jobs where literacy is valued.
These boys are more likely to view literacy as a masculine trait (Sadowski, 2010). Especially for boys living in poverty, it is important for male educators to discuss their reading and the importance of literacy in their lives. In addition, having successful and influential community members share the ways they use reading can be enlightening to young men.
Kenneth McKee is a literacy and instructional coach with Buncombe County Schools in Asheville, NC. He is a 2014 ASCD Emerging Leader. To learn more about his work, follow him on Twitter (@kennycmckee) or visit his website kennycmckee.com; 4 Ideas For Motivating Adolescent Male Readers; image attribution flickr user gammarayproduction
A Reading Comprehension Tool To Simplify Text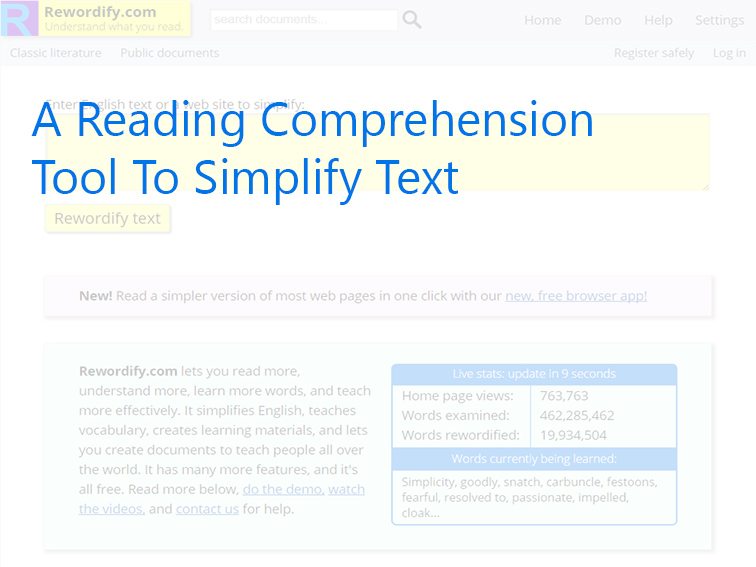 A Useful Reading Comprehension Tool To Simplify Text
by TeachThought Staff
Need a reading comprehension tool to simplify texts for students?
Something practical, along the lines of our "How To Google Search by Reading Level," and Conversion Chart For Reading Level Measurement Tools? You may find some use in rewordify.
In short, you copy/paste text to be 'simplified,' and it does its thing. It attempts to simplify the text at the vocabulary level (as opposed to syntatical, structural, or idea level). Nonetheless, when vocabulary is the barrier, it does the trick. The replacements don't always do what they should–simplify the text to make it more readable for struggling readers, or students reading beyond their natural level. Sometimes the definitions are themselves confusing, as they add an additional cognitive movement the student has to make, internalizing this now sterile definition back into some kind of meaning.
Advertisement
In our brief use, we've found it useful in the right circumstance. You can't copy/paste a chapter from a book and hand it to a child to read as a 'modified text' that has been 'personalized' for them. It'd simply make a mess of the text, and likely ruin the reading experience.
What you can do, however, is use it to simplify short excerpts for individual readers, or for a whole-class read. You can also let students use it themselves as they will, or as a model of how passages can begin to be deconstructed.
The developers explain the features of rewordify:
Work with all your documents in one convenient place
Edit and delete your documents
Make any document public, so anyone can find it from the search box
Make any document link-only, so people need a link to view it
Make any document private, so people need a password to view it
Save vocabulary lists
Keep track of what words you've learned, are learning, and want to learn, and more!

A Reading Comprehension Tool To Simplify Text