Netflix Has Released Free Documentaries For Learning At Home
Netflix Has Released Free Documentaries For Learning At Home
by TeachThought Staff
From a press release
13th (Film)
The title of Ava DuVernay's extraordinary and galvanizing documentary refers to the 13th Amendment to the Constitution, which reads, "Neither slavery nor involuntary servitude, except as a punishment for crime whereof the party shall have been duly convicted, shall exist within the United States." The progression from that second qualifying clause to the horrors of mass criminalization and the sprawling American prison industry is laid out by DuVernay with bracing lucidity. With a potent mixture of archival footage and testimony from a dazzling array of activists, politicians, historians, and formerly incarcerated women and men, DuVernay creates a work of grand historical synthesis. 
Please find educational resources here.
Abstract (Series – Season 1)
Abstract: The Art of Design takes you beyond blueprints into the art, science, and philosophy of design. The series goes inside the minds of the world's greatest designers, showcasing the most inspiring visionaries from a variety of disciplines whose work shapes our culture and future.
Please find educational resources here. 
See also Viewing Strategies For Improved Comprehension
Babies (Series – select episodes)
Filmed over the course of three years, Babies is a landmark series that explores the miracle of the first full year of life through the pioneering work of leading scientists from across the globe. The series examines the epic journey every person embarks on, from helpless new-born to independent toddler. Following the life-changing adventures of 15 international families and featuring the latest research from eminent scientists who share their personal journeys of discovery into the infant mind, the series is filled with the exciting uncertainty of parenting, exploring each major milestone of development like never before. From the first bond a baby shares with its parents, to learning to feed, sleep through the night, crawl across the room, speak their first words, and discover the world around them – right up to those first steps of toddlerhood.
Please find educational resources here.
Chasing Coral (Film)
Chasing Coral taps into the collective will and wisdom of an ad man, a self-proclaimed coral nerd, top-notch camera designers, and renowned marine biologists as they invent the first time-lapse camera to record bleaching events as they happen. Unfortunately, the effort is anything but simple, and the team doggedly battles technical malfunctions and the force of nature in pursuit of their golden fleece: documenting the indisputable and tragic transformation below the waves. With its breathtaking photography, nail-biting suspense, and startling emotion, Chasing Coral is a dramatic revelation that won't have audiences sitting idle for long. 
Please find educational resources here.
Explained (Series – select episodes)
In partnership with Vox Media Studios and Vox, this enlightening explainer series will take viewers deep inside a wide range of culturally relevant topics, questions, and ideas. Each episode will explore current events and social trends pulled from the zeitgeist, touching topics across politics, science, history and pop culture — featuring interviews with some of the most authoritative experts in their respective fields.
Advertisement
Please find educational resources here.
Knock Down the House (Film)
Four exceptional women mount grassroots campaigns against powerful incumbents in Knock Down the House, a galvanic and inspiring look at the 2018 midterm elections that tipped the balance of power. When tragedy struck her family in the middle of the financial crisis, Bronx-born Alexandria Ocasio-Cortez had to work double shifts as a bartender to save her home from foreclosure. After losing a loved one to a preventable medical condition, Amy Vilela didn't know what to do with the anger she felt about America's broken health care system. Cori Bush, a registered nurse and pastor, was drawn to the streets when the police shooting of an unarmed black man brought protests and tanks into her neighborhood. A coal miner's daughter, Paula Jean Swearengin was fed up with watching her friends and family suffer from the environmental effects of the coal industry. 
Please find educational resources here.
Our Planet  (Series)
Narrated by Sir David Attenborough This eight-part series will explore the unique and precious wonders of our natural world from the creators of the award-winning series Planet Earth. In partnership with World Wildlife Fund, Our Planet combines stunning photography and technology with an unprecedented, never-before-filmed look at the planet's remaining wilderness areas and their animal inhabitants. The ambitious four-year project has been filmed in 50 countries across all the continents of the world, with over 600 members of crew capturing more than three and a half thousand filming days, and will focus on the breadth of the diversity of habitats around the world, from the remote Arctic wilderness and mysterious deep oceans to the vast landscapes of Africa and diverse jungles of South America. 
Please find educational resources here.
Period. End of Sentence. (Short)
In a rural village outside Delhi, India, women lead a quiet revolution. They fight against the deeply rooted stigma of menstruation. Period. End of Sentence. — a documentary short directed by Rayka Zehtabchi — tells their story. For generations, these women didn't have access to pads, which lead to health problems and girls missing school or dropping out entirely. But when a sanitary pad machine is installed in the village, the women learn to manufacture and market their own pads, empowering the women of their community. They name their brand "FLY," because they want women "to soar." Their flight is, in part, enabled by the work of high school girls half a world away, in California, who raised the initial money for the machine and began a non-profit called "The Pad Project."
Please find educational resources here.
The White Helmets (Short)
A Netflix original short documentary, set in Aleppo, Syria and Turkey in early 2016. As the violence intensifies, The White Helmets follows three volunteer rescue workers as they put everything on the line to save civilians affected by the war, all the while wracked with worry about the safety of their own loved ones. Moving and inspiring, The White Helmets (directed by Academy Award®–nominated director Orlando von Einsiedel and producer Joanna Natasegara) is both a snapshot of the harrowing realities of life for ordinary Syrians who remain in the country, and a humbling portrait of the power of the human spirit.
Please find educational resources here. 
Zion (Short)
Zion is a gripping portrait of Zion Clark, a young wrestler born without legs who grew up in foster care. Clark began wrestling in second grade against his able-bodied peers. The physical challenge became a therapeutic outlet and gave him a sense of family. Moving from foster home to foster home, wrestling became the only constant thing in his childhood. The Netflix original documentary short is directed by Floyd Russ.
Please find educational resources here.
Four Stages Of A Self-Directed Learning Model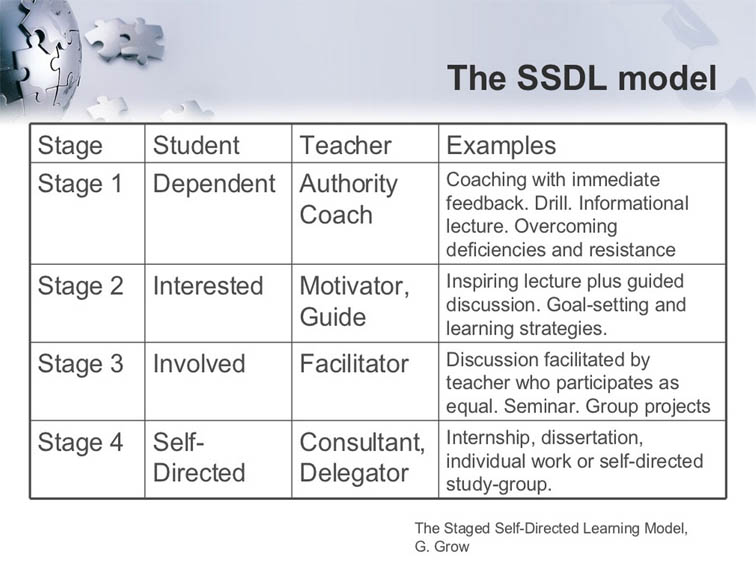 Four Stages Of A Self-Directed Learning Model
by TeachThought Staff
Self-Directed Learning is not new–but is perhaps misunderstood.
In the linked post above, Terry Heick wondered about the relationship between self-directed learning and the purpose of education:
The goal of the model isn't content knowledge (though it should produce that), but rather something closer to wisdom–learning how to learn, understanding what's worth understanding, and perhaps most importantly, analyzing the purpose of learning (e.g., personal and social change). It also encourages the student to examine the relationship between study and work–an authentic 'need to know' with important abstractions like citizenship and legacy.
Studied in terms of adult education and vocation for years, self-directed learning is increasing in popularity for a variety of reasons, including growing dissatisfaction with public schooling, and the rich formal and informal learning materials available online. This is the 'age of information' after all.
Self-directed learning is one response, something slideshare user Barbara Stokes captures in this chart, based on the model by Gerald Grow. The four stages–very similar to the gradual release of responsibility model–appear below.
The Four Stages Of The Self-Directed Learning Model
Learner                            Teacher
Stage 1   Dependent        Authority, Coach
Examples: Coaching with immediate feedback. Drill. Informational lecture. Overcoming deficiencies and resistance.
Stage 2:  Interested          Motivator, Guide
Examples: Inspiring lecture plus guided discussion. Goal-seting and learning strategies.
Stage 3:  Involved             Facilitator
Examples: Discussion faciliated by teacher who participates as equal. Seminar. Group projects.
Stage 4:  Self-Directed     Consultant, Delegator
Examples: Internship, dissertation, individual work or self-directed study group.
Theories of Teaching and Learning: The Staged Self-Directed Learning Model, G.Grow. from Barbara Stokes; Four Stages Of A  Self-Directed Learning Model
The Benefits Of Competency-Based Assessment
The Benefits Of Competency-Based Assessment
contributed by David Garrick, Dean of Graduate School of Education, UCDS College for School Culture
The general idea behind a competency-based assessment is that it provides students and families with specific feedback about student performance that can lead to a clearer understanding of progress and skills gained over time.
As Dean of the Graduate School of Education at the UCDS College for School Culture, I've gained a unique perspective on the possibilities that competency-based assessment can provide. Students who attend University Child Development School (UCDS) in Seattle don't earn A's, B's, or F's. Instead, student assessments are communicated through our own set of competency-based continua for various subjects.
These continua, paired with narrative communication with students and families, make up the school's framework for assessment, based on skill progressions. I've seen the benefits first-hand in Pre-K through elementary classrooms, and also in training at the graduate level.  
By providing specific information about the academic and social skills students exhibit, schools provide detailed and actionable information. This empowers students in their learning and educators in their teaching practices. Here's a general overview of the benefits of competency-based assessment.
Building Competency-Based Assessments: The Benefits
1. Improved clarity & transparency
Greater clarity allows teachers and families to identify areas of strength and areas where students may need additional support. In all cases, these assessments provide teachers with detailed knowledge about student progress that can be used to build individualized goals and educational plans.
In addition to evaluating proficiency in these domains, teachers should regularly share comprehensive feedback individual student accomplishments and struggles. For example, UCDS teachers provide narrative commentary to families where they focus on how a student engages within each domain, as well as notable accomplishments and struggles.
Focusing on comprehensive feedback brings clarity to the learner, and clarity to the family about what's happening in the classroom. Letter grades don't show the full picture (suggesting alternatives to letter grades), and a competency-based model is better equipped to provide students, families and future schools with clear information about each student's social and academic progress.
Advertisement
2. More seamless personalization of learning
Through Competency-Based Learning, educators have a better chance to provide a deeper view into each student's learning attitudes and strategies and can provide resources that best support individual needs. This type of information is key to understanding the unique modes, strategies, and coaching to which each student responds best. This is the foundation of personalized learning.
3. It helps shift towards a culture of assessment
To successfully adopt competency-based strategies, teachers and administrators must first reevaluate assessment. While traditional forms of assessment (i.e., exams and quizzes) are valuable when placing students on a general scale of progress, they don't show the whole picture. Making changes to assessment can be daunting for some educators, especially those who have been using traditional assessment practices throughout their career. It can also be a shift for parents to evaluate their student's performance without a grade.
It's important that teachers pursue resources and professional development that introduce different methods of assessing student progress, and why they hold value. As every teacher knows, the learning never stops – and by staying on top of current trends, curriculum can be adapted to meet every students' needs.
4. Students better understand their own learning profile
Through comprehensive, competency-based assessment methods, teachers can help students to reach college and career readiness with greater self-knowledge about their learning approaches and needs. Working from a continuum of skills ensures that every student is being challenged in a way that is appropriate to what they want and need to learn and that educators can give individualized support as needed to help them move forward.
Removing the stress of being placed on a tiered grading scale shifts the focus back to learning, while building the confidence to make mistakes. Students take ownership of their learning. They feel empowered when mastering a skill and learn to identify what's next.
Conclusion
For teachers, competency-based assessment brings depth and value to curriculum. With the focus shifted away from letters and percentages, students become more involved in long-term progress and are more apt to become engaged and take risks while learning.
Ranking students based on undefined competencies and then using that rank to determine their future prospects and contributions is a practice best left to past eras. Competency-based assessment provides more detailed information that promotes better-targeted teaching and learning for all parties involved.  
5 Learning Strategies That Make Students Curious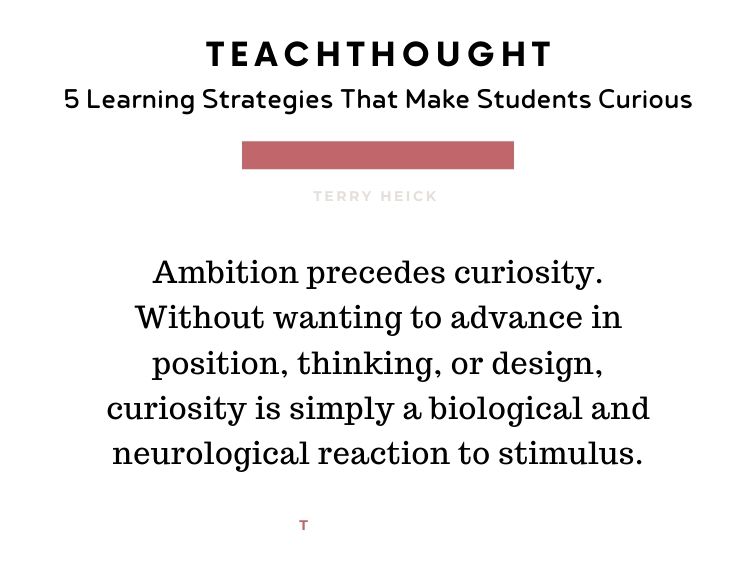 5 Learning Strategies That Make Students Curious
by Terry Heick
Understanding where curiosity comes from is the holy grail of education.
Education, of course, is different than learning but both depend on curiosity.
Education implies a formal, systematic, and strategic intent to cause learning. In this case, content to be learned is identified, learning experiences are planned, learning results are assessed, and data from said assessments play some role in the planning of new learning experiences. Learning strategies are applied, and snapshots of understanding are taken as frequently as possible.
This approach is clinical and more than a smidgeon scientific. It arrests emotion and spontaneity in pursuit of planning and precision, a logical trade in the eyes of science.
Of course, very little about learning is scientific. While data, goals, assessment, and planning should all play a role in any system that purports to actually accomplish anything, learning and education are fundamentally different. The former is messy and personal, painful and fantastic. The latter attempts to assimilate the former—or at least streamline it as much as possible in the name of efficiency.
An analogy might help. (I love teaching with analogies.)
learning : education :: true love : dating service
True love may very well come from a dating service, and dating services do all they can to make it happen, but in the end—well, there's a fair bit of hocus pocus at work behind it all.
Hubris & Education
Education is simultaneously the most noble and hubristic of all endeavors. There are two minds to every educator. This may all reek of sensationalism, but watch anyone at play, honing a craft, lost in a book, or engaged in a digital simulation and you'll see a completely different person—one there physically, but far removed in spirit.
In a better place.
Causing this in a classroom is possible, but is as often the result of good fortune than good planning. The best substitutes that can masquerade as curiosity are dutiful compliance and engagement. Neither of these are curiosity, which has among its sources a strong sense of volition, accountability, and curiosity.
Here, let me try.
I want to show you what I can do.
I want to know.
And that last one—a sign of curiosity–is a bugger, one we've talked about before. Like the caffeine in coffee, the chords on a guitar, or the wet in water, genuine curiosity is not a thing, it's the thing.
Not temporarily wanting to know, or being vaguely interested in an answer, but being able to put together past experience and knowledge like the millions of fibers on a network–only to be maddeningly stopped from branching further without understanding or knowing this one bit.
Like stopping an incredible movie right at the climax—that awful, crazy feeling inside would be unfulfilled curiosity—and it'd just kill you not to know. But where does it come from?
And can you consistently cause it in a learner?
If formal learning environments driven by outcomes-based systems have taught us nothing else, it's that while we often can "cause" something to happen in learner, it is only by considerable effort, resources, and angst.
Advertisement
But we certainly can create ideal conditions where natural curiosity can begin to grow. What we do when it happens—and disrupts our planned lessons and tidy little units—is another story altogether.
5 Things That Make Students Curious
1. Revisit Old Questions
The simplest curiosities arise from old questions that were never fully answered, or that no attempt to answer was made.
Of course, any question worth its salt is never 'fully answered' any more than a good conversation is ever finished, but as we learn and reflect and grow, old answers can look positively awkward, as they are bound by old knowledge.
Strategy to actuate: Revisit old questions—through a journal prompt, Socrative discussion, QFT (Question Formulation Technique), or even a fishbowl discussion. And also revisit the thinking from the first go-round to see what has changed.
2. Model & Promote Ambition
Ambition precedes curiosity. Without wanting to advance in position, thinking, or design, curiosity is simply a biological and neurological reaction to stimulus. But ambition is what makes us human, and its fraternal twin is curiosity.
Strategy to actuate: Well thought-out mentoring, peer-to-peer modeling, Project-Based Learning and a genuine 'need to know.'
3. Play
A learner at play is a signal that there is a comfortable mind focused on a fully-internalized goal.
It may or may not be the same goal as those given externally, but play is hypnotic and more efficient than the most well-planned instructional sequence. A learner playing and learning through play, nearly by definition, is curious about something, or otherwise they're simply manipulating bits and pieces mindlessly.
Strategy to actuate: Game-Based Learning and learning games and simulations like Armadillo Run, Civilization VI, Bridge Constructor, and Age of Empires all empower the learner to play. Same with Challenge-Based learning and other forms of learning.
4. The Right Collaboration At The Right Time
Seeing what is possible modeled by peers is powerful stuff for learners. Some may not be initially curious about content, but seeing what peers accomplish can be a powerful actuator for curiosity. How did they do this? How might I do what they did in my own way? Which of these ideas I'm seeing are valuable to me—right here, right now–and which are not?
Strategy to actuate: Grouping is not necessarily collaboration. To actuate collaboration, and thus curiosity, students must have a genuine need for another resource, idea, perspective, or something else otherwise not immediately available to them. Cause them to need something, not simply to finish an assignment, but to achieve the goal they set for themselves.
5. Use Diverse & Unpredictable Content
Diverse content is likely the most accessible pathway to at least a modicum of curiosity from learners. New projects, new games, new novels, new poets, new things to think about.
Strategy to actuate: Invite the learners to understand the need for a resource or bit of content and have them source it. Instant diversity class-wide, and likely divergence from where you were going with it all. At worst you've got engaged learners, and a real shot at curiosity.
5 Learning Strategies That Make Students Curious