The Difference Between Innovation-Led Evidence And Evidence-Led Innovation
The former–'innovation-led evidence'–is highly productive in achieving outcomes, though of course care must be taken that those outcomes represent your objectives effectively. The latter–'evidence-led innovation' almost by definition excludes fundamental innovation because it means only building stuff that past evidence said would work.
When you build something significantly new it isn't just a matter of formally assembling evidence from the past in a predictable way. A leap is needed, or several. Different insights. A new viewpoint. Often in practice, these will occur from a mixture of observation, experience and what still appears to be very human-style intelligence. But wherever it comes from, it isn't straightforwardly 'evidence-led.'
I strongly agree with the late physicist (and friend of my brother's) Richard Feynman who explained nicely in one of his famous 1960s Caltech lectures how the scientific process works. I could summarize: Guess, Make a theory, Test it and compare with theory. (Film of this lecture exists–see the first minute!)
In the case of technology, 'theory' is the product, in pharmaceuticals, it's the drug and in education (for the most part) it's the curriculum.
Advertisement
'Evidence-led innovation' stifles major innovation–it locks out the guess–yet I firmly believe that that's what most of "evidence-led education" is talking about with painfully little "innovation-led evidence" applied.
I've faced this repeatedly with Computer-Based Maths. I'm asked, "Do you have evidence it works"? I sometimes answer, "Where's your evidence that today's traditional maths education works? Have you done randomized control trials?"
As quickly as we can build curricula, fund their development, and set up projects in different countries, we are starting to gather evidence. Something that slows this down is the need to have student assessments that accurately reflect required outcomes: it's not just a matter of comparing exam results before and after, open-ended computer-based maths assessments are needed too.
One problem with the 'evidence-led innovation' crowd is that they often have no idea how hard it is to build something completely new. They think you can do micro-innovations, then test, then micro-innovate then test.
Actually, so far CBM is the hardest innovation I've been involved in. It's been amazing to me just how different every aspect of the maths curriculum becomes when you do not need to assume hand-calculating. Equally amazing is how deep everyone needs to dig into their own understanding to uncover those differences, particularly since those involved have learned maths traditionally.
You might ask whether now is the time for a new maths curriculum? Can we really take the risk? As guesses go, the idea that maths education should be the same subject as maths in the real world (ie. using mechanized computation) and not the current hand-calculating proxy is an extremely sure-footed one. The risk of not leaping with the real-world poses a very significant danger.
Let's have the courage to develop and test CBM around the world, indeed more thoroughly than any maths curriculum has been tested before.
About Conrad Wolfram
'Conrad Wolfram, physicist, mathematician and technologist, is strategic director and European co-founder/CEO of the Wolfram group of companies. Described as the place where "Computation meets Knowledge" and "The Math Company", the Wolfram Group specializes in pushing boundaries at the intersection of computation, data science, maths, and knowledge, including making Mathematica software, the Wolfram|Alpha knowledge engine (powering knowledge answers for Apple's Siri), the Computable Document Format (CDF) standard and Wolfram Language. All Wolfram technology is now being hybridized to the cloud, including providing private computation cloud installations. Wolfram is now established as a key organization in modern data analytics, uniquely spanning broad-based technology and consulting solutions to enable sectors from medical to finance to government to maximize decision-making from data, way beyond traditional solutions. Conrad is also a leading advocate for a fundamental shift of maths education to be computer-based and founded computerbasedmath.org (CBM) to drive implementation of the change. The movement is now a worldwide force in re-engineering the STEM curriculum with early projects in Estonia, Sweden and across Africa. Conrad was educated at Eton College, and University of Cambridge in the UK, from which he holds degrees in natural sciences and maths.'
The Problem With Evidence-Led Innovation
Changing Knowledge Demands In Education Means Curriculum Must Change, Too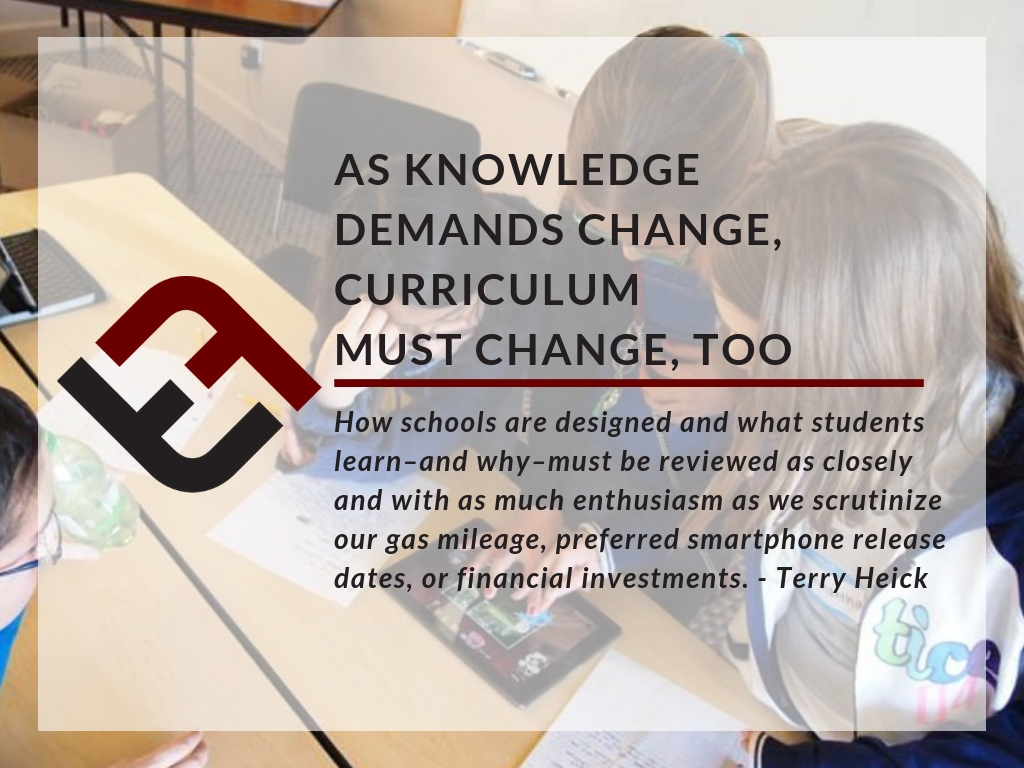 Changing Knowledge Demands In Education Means Curriculum Must Change, Too
by Terry Heick
Increasingly, the concept of changing knowledge demands in education is surfacing.
For example, take the idea of computer coding that is continuing to make headlines up in discussions about the classroom.This usually happens in the context of '21st-century learning,' because, well, coding sounds like an exceptionally modern thing to do.
In Hollywood, computer coders are characterized as aloof and spectacled geniuses in green army jackets, who solve (narrative) problems in a kind of deus ex machina fashion. Hack the mainframe, change the school grades, save prom, etc.
In the news, coders are either painted as geniuses with keyboards, or an eclectic mix of cutting-edge vigilante and binary terrorist, with secret documents, scary viral threats, and national security all a part of their tools and struggle. Combined with the role digital technology increasingly plays in our lives, coding sits at an awkward intersection—misunderstood by most, but tangent to almost everything. So we should absolutely teach coding in schools, right?
Well, maybe.
Teaching Skills vs Teaching Content
It's really more complicated than that.
Too often, new ideas are tacked onto curriculum as yet another perfectly-reasonable-sounding-thing to teach. Character training, drama, speech, debate, art, whole child, and dozens of other skills and topics have been injected into classrooms, but not always enduring.
In and of themselves these are worthwhile skills to have and things to know. One issue is that schools have limits (which may be more modest than we'd like to admit). Even the most incredible school with the most incredible teachers has a limited amount of instructional time during the year.
The students, too, have a finite capacity for meaningfully investing themselves in what they learn. This is an issue where curriculum—what students study—can look great on paper, but less ideal day in and day out in the classroom.
Changing Priorities
I was taught basic computer coding in the 1980s in elementary school. It was forced out by a push for foreign language as I recall—which has since, in some districts anyway, been pushed out for other new ideas–coding again, perhaps.
There is nothing wrong with changing priorities. In fact, this is a signal of reflection and vitality. Changing knowledge demands in education should dictate this effect, But when education itself—as it tends to do—continues to take a content and skills-focused view of what to teach rather than how students learn, it's always going to be a maddening game of what gets added in, and what gets taken out, with the loudest voices usually winning.
To try to address this problem, let's consider a more macro question: What is school? From the big picture down, it looks relatively simple.
Education is, more or less, a system of teaching and learning.
Teaching and learning are, more or less, concerned with knowledge.
And that knowledge can be broken down into two separate but connected parts: skills and content.
Skills are things students can 'do'—procedural knowledge that yields the ability to do something. This could be revising an essay, solving a math problem, or decoding words to read.
Content can be thought of as a second kind of knowledge—a declarative knowledge. Something a student 'knows.' In math, this might be the formula to calculate the area of a circle. In composition, it could be a writing strategy to form sound and compelling paragraphs. In history, it may refer to the geographic advantages of one country in a conflict versus another.
Should schools focus on content and skills, or are there other possibilities we might consider? And does that answer change as the world changes and knowledge demands in education change?
Whether or not schools should teach coding is a question that cannot responsibly be answered by itself. Against the backdrop of rapid technological change, mass cultural adoption of technology, and the mediocre performance of our current education system, the question becomes just one of many that deserve our attention.
Without this kind of critique, coding will suffer alongside chemistry, music, and other miracles of knowledge that have had the life tortured out of them by a well-intentioned but brutal infrastructure.
It will be halved, then halved again, diced, packaged, and served at room temperature day after day after day until no one remembers what they're doing or why they're there.
Digital Literacy 
Advertisement
Take for example the idea of literacy–the ability to read and write. This has been at the heart of teaching and learning since the very beginning of, well, everything. Not only is it a goal in and of itself, but it also is a prerequisite of other goals. Without the ability to read and write well, students struggle everywhere.
But instead of placing reading and writing at the core of school in general—kind of a backdrop for all learning–it is segmented into a class of its own. This gives English-Language Arts teachers in the United States struggle as many as five sets of Common Core Standards to teach.
Think of standards as a list of things a student needs to know. English-Language Arts teachers in the United States are responsible for teaching the following five sets of standards. Each set of standards has dozens of strands and grade-level standards within them.
Reading: Informational
Reading: Literature
Reading: Foundational
Writing
Speaking & Listening
Language
That's a lot of information for teachers to meaningfully teach (rather than just 'cover'). It's also a lot for students to learn. This places tremendous pressure on educators to make numerous—and critical—adjustments their teaching on the fly, and decide quickly what content is most important.
It is in this context that we should have a conversation about coding, and any other new ideas we have for schools. It's a system. Everything is connected. Changing knowledge demands in education means changing education.
But the world is changing; there is so much more that students need to know, right? This all is reminiscent of the Coen Brothers' Raising Arizona. After hearing a long laundry list of things every baby needs from her friend Dot, Ed (Holly Hunter) turns to Hi (Nicholas Cage) in panic.
Ed: Who's our pediatrician anyway? We ain't exactly fixed on one yet, have we Hi?
Hi: *stunned silence*
Ed: No, I guess we don't have one yet.
Dot: Jesus! Well, you gotta have one this instant!
Hi: *stunned silence*
Ed: What if the baby gets sick, honey?
Dot: Even if he don't, he's gotta have his dip-tet.
Ed: He's gotta have his dip-tet, honey.
Dot: You started his bank accounts yet?
Ed: Have we done that? We gotta do that. What's that for, Dot?
Dot: His orthodonture and his university!
Coding! Foreign Language! Technology! Science! Ethics! Egads!!!
The Changing Nature of Skills
Change causes uncertainty, and uncertainty can understandably cause insecurity and even panic.
Digital literacy can be thought of as "the ability to interpret and design nuanced communication across digital forms."
Students need to be able to do this, yes? Of course. And speak a foreign language too, right? 'Coding' just means 'speak computer.' Like any new language, it's just another collection of symbols with different factors and components and effects.
But these aren't the questions we need to be asking. A more apt question might be, what should schools teach?
And why can't education, as a system, refashion itself as fluidly as the digital technology that is causing it so much angst?
How should schools—and curriculum—be reconsidered in light of prevailing local technology and values?
And can we design them in a way that makes them revisable in parallel with the pace and scale of those changes?
Everything is Everything
Schools don't exist in vacuums. They are pieces of larger ecologies that are first human and cultural. It isn't just technology that changes. Technology changes because our collective desire for things changes – and, completing the circle, updates to technology change what we desire.
Mobile learning, digital citizenship, design thinking, collaboration, creativity, and on a larger scale, digital literacy (education is not yet comfortable enough with these ideas to teach 'just digital citizenship' or 'just literacy') are all imminently useful. So is coding.
There are skills and content bits that every student would benefit from exposure to and mastery of. This is astoundingly important work that must be done while keeping the design of schools, the skillsets of teachers, and the value system of society in mind. If we don't see the issue in its full context, we're not seeing the issue at all.
How schools are designed and what students learn as knowledge demands in education change–and why–must be reviewed as closely and with as much enthusiasm as we scrutinize our gas mileage, preferred smartphone release dates, or financial investments.
In fact, in this era of information access, smart clouds, and worsening socioeconomic disparity, we may want to consider whether we should be teaching content at all – instead of truly teaching students to think.
As Knowledge Demands Change, Curriculum Must Change, Too
Creating A Learning Ux: 25 Design Concepts In Education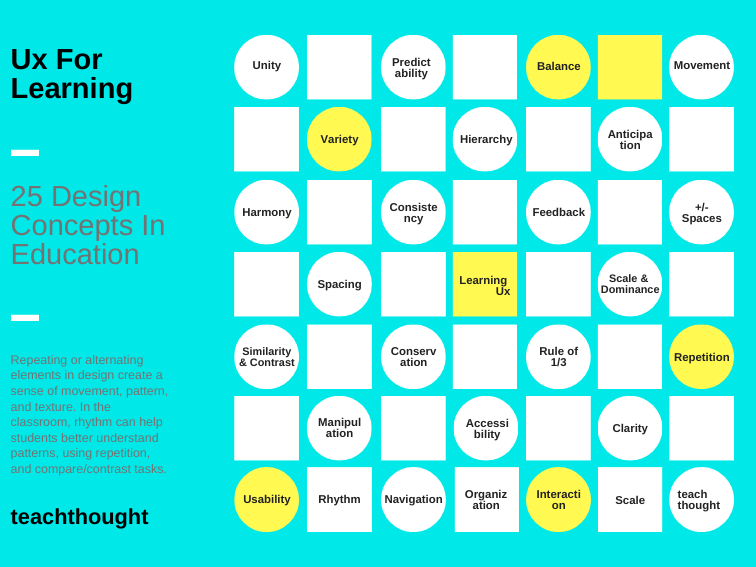 Creating A Learning Ux: 25 Design Concepts In Education
contributed by bestcollegesonline.com and updated by TeachThought Staff
Good design is everywhere: on websites, in objects you use in your home, in architecture–even the car you drive every day.
But often, design is missing from the modern classroom, and we think that's a big mistake. Educators have a lot to learn from the principles of design, bringing strategic thought and creativity to today's classrooms.
Well-designed classrooms and educational plans can have a positive impact on educational outcomes, and it all starts with educators. Below are 25 design principles important for educators to use and understand.
Obviously, the descriptions for each are necessarily brief. Ideally, there would be more in-depth discussion of each, complete with visuals, examples, and strategies for implementing each in your classroom, curriculum, learning management system (LMS), or other learning user interface.
This, however, is intended to simply introduce teachers (and school designers, for that matter) to the varied concepts of learning interface and design concepts in education. Follow-up reading in other articles (like Classroom Setups That Promote Critical Thinking), as well as exploring these and relates concepts in books, courses, and other supplementary materials would be useful if you're interested in learning more.
Creating A Learning Ux: 25 Design Concepts In Education & For The Classroom
1. Unity
In design, unity is all about bringing elements together, making sure that no one part is more important than the whole design. Finding balance and unity in your classroom is similarly essential. Thinking about how all of your lessons and educational tasks come together is a great way to find balance and unity in your classroom.
Use repetition, rhythm, and themes with variations to bring it all together. This is an example of a very common design concept in education.
2. Predictability
Designers don't like to leave users guessing about what will happen next. When you click on a website link, you expect to be taken to a new site. Students should expect the same. Be predictable in your teaching style so that students can know what to expect when they walk into your classroom each day.
3. Balance
Much like unity, balance helps to create a unified design, making sure that no one space takes away from the whole of the design. In the classroom, balance is a great way to make sure you're not focusing too much on any one thing, neglecting other important lessons.
4. Movement
Designers use movement to guide viewers to focal areas, often with lines, shapes, and colors. Educators can use this principle, guiding students to key ideas with leading questions and helpful hints.
5. Variety
Just as users and viewers crave variety in design, so do your students. As an educator, making variety an important principle in your instruction can help keep your students' attention and guide them through the coursework.
6. Hierarchy
In a good design, it's clear what's most important, with a defined hierarchy that leads viewers through elements in order of their significance. Design concepts in education rely on hierarchy–which means teachers can use this principle, focusing on what's most important early on in the lesson when you're most likely to have the attention of your students.
7. Anticipation
Great designers anticipate how their viewers and users will need to interact with what they create, and teachers can do the same thing. Anticipate how your students will go through new lessons as you're planning them, and make adjustments for better flow if you need to.
8. Harmony
Harmony in art and design means combining similar and related elements, like adjacent colors on the color wheel. For educators, harmony can be used for better comprehension, bringing related lessons together in the same unit and considering which concepts might complement one another.
9. Consistency
Consistency is what makes design look professional, offering a perception of quality and coherence. Clearly, consistency in education is key and can go a long way to making students better understand your instruction and feel comfortable in your classroom. Consider how you can make everything 'match' in your work as a teacher. Do you approach all lessons in the same format? Keep a regular schedule for each day?
10. Feedback
We've all sat and stared at a screen as a video is loading, watching as it goes from 10% to 50%, 90%, and finally 100%.
This kind of feedback is great in design, giving users the reassurance they need to know everything is still on track. In the classroom, giving this kind of feedback is great for creating confident students, letting them know whether they're headed in the right direction.
11. Positive & Negative Space
Designers use positive and negative space to keep things uncluttered and simple, with objects representing positive space, and the environment itself as negative space. For educators, positive and negative space can represent instruction and learning. Paying attention to the principle of positive and negative space as design concepts in education can help teachers keep a balance between instruction and students' independent learning.
12. Spacing
Related to positive and negative space, spacing can make things clearer in design, with line spacing, padding, and of course, white (or negative) space. Classroom instructors can use this principle to keep an even pace. Cramming lots of instruction in at once isn't just distracting, it's terrible for keeping the attention of your students.
Advertisement
Spread things out a bit, and you'll be able to focus on what's important without overwhelming your students.
13. Scale And Dominance
Designers use scale and dominance to create focal points, and educators can do the same thing. Whether you're physically showing the difference in size between two objects, or comparing country statistics, showing scale can help students put things in perspective.
14. Similarity And Contrast
In design, it's important to keep things structured, simple, and consistent. The same principles are effective in the classroom, giving students a learning style that they can count on. Developing a style manual for your classroom can help you stay consistent, and creating a simple, repeatable learning structure is comforting and dependable for students to follow as they learn.
15. Attention Conservation
Designers and educators alike know that these days, it's hard to keep anyone's attention. That's why attention conservation is key to success in both design and education. Remember that attention in your classroom is precious, and don't squander it.
16. Rule Of Thirds
Designers and artists carefully pay attention to the rule of thirds, frequently placing the primary element off-center to make compositions more interesting. Teachers can use this idea in the classroom, both in visual design and in an instructional approach. Mix up the way you present information just slightly, and it can become a little bit more interesting to your students, making this a simple design concept in education to apply everywhere from grouping students to graphic design on curricula.
17. Repetition
Designers know that repetition without variation can become monotonous, but repetition with variation makes things interesting. You can use this principle as an educator, especially when it comes to reciting and reviewing material with your students. They may not enjoy going over the same lessons and concepts over and over again, but if you mix things up as you go along, you can make them more interesting.
18. Direct Manipulation
The general public loves to touch things and to manipulate physical objects, and so do students. Whenever possible, allow students to get hands-on with learning to better keep their attention, boost understanding, and make education more fun.
19. Accessibility
Designers have to pay attention to accessibility in their work, ensuring that what they create isn't unnecessarily difficult for users, especially those with disabilities. Special education teachers are likely to be well-versed inaccessibility, but it's a principle that any educator can put to work.
Many classrooms include students with anxiety disorders, depression, ADHD, and more. When planning lessons, consider how students with these issues might be affected.
20. Clarity
Web designers go to great lengths to make sure their work is super sharp and clear, and it's no secret that clarity is important for educators as well. While clarity for designers most often comes down to pixels, it's a lot more complex for instructors. Keeping things clear and simple for your students is essential to comprehension.
Are your lessons complex (which is good) or simply difficult to understand (which may not be)?
21. Usability
Similar to accessibility, usability puts the user front and center in design, making sure that a product is easy to use and understand. Paying careful attention to usability in your classroom is a great way to make learning more effective for your students, removing obstacles to understanding and making your classroom more effective.
Think about the frustrations, errors, and confusion your students may experience, and consider what you can do to resolve these issues.
22. Rhythm
Repeating or alternating elements in design create a sense of movement, pattern, and texture. In the classroom, rhythm can help students better understand patterns, using repetition, and compare/contrast tasks.
23. Navigation
For a web designer, navigation is one of the most important principles and elements of design. Navigation tells a user where they are, and where they can (and should) go. For instructors, navigation is similarly important, as you work to guide students through concepts. Remember to be a frequent guidepost, offering reference to where you currently are in the lesson, and where you're about to go.
24. Organization
With Well though-tout organization, designers can reduce the cognitive load needed for users to interact with their work. Although educators aren't exactly in the business of reducing the cognitive loads of their students, this principle is still helpful. Disorganized learning can cause unnecessary confusion and make it difficult for students to follow what you're learning. Help students better understand what you're teaching by keeping things organized.
25. Interaction
In design, interfaces exist in order to enable interaction between users, objects, and even themselves. Paying special attention to this design principle is great for educators, encouraging interaction and collaboration in your classroom.
This is a cross-post from content partners at bestcollegesonline.com
Are You Prepared For The Future Of Social Learning?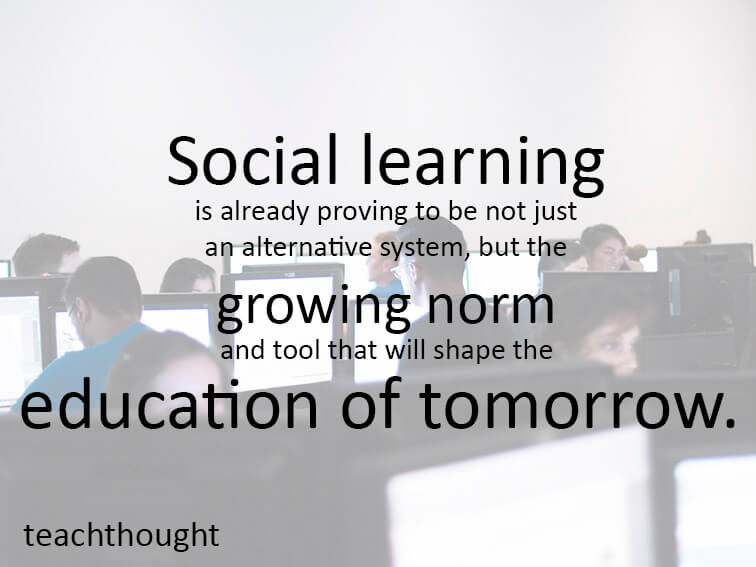 Are You Prepared For The Future Of Social Learning?
contributed by Krish Kupathil, Mobiliya
R = e –t/s where R is retention, T is time and S is strength.
A formula detailing a chemical reaction, or the new math behind a social media outreach strategy? Actually, an expression of the ability to remember, discovered by the German psychologist Herman Ebbinghaus. Known as the famous Forgetting Curve, it hypothesized the decline of memory retention over time. In fact, we now know that 50 percent of formal learning is forgotten within the first hour.
With this statistic in mind, it is surprising that our formal education system –our schools, colleges, and universities— has primarily relied on conventional learning methods to deliver information. Until even a few decades ago, schools, colleges, and even professional organizations saw learning happening through structured modules, courses, and programs delivered by the 'head' of the class, typically a teacher or trainer, to a group of passive listeners.
Even with the growth of digital platforms such as online programs, the basic structure of learning remained the same; automation and technology simply enhanced the delivery methods. But now with the ascent of social media, not only has the delivery model markedly changed but also the construction and development of content. Social platforms have completely redefined the way people create, search, and consume content. Not surprisingly, the social revolution has made an impact on learning and development, setting the stage for social learning; a term devised by Albert Bandura in 1977. The social learning theory has been reinvented and has emerged as the single most powerful factor revolutionizing modern education.
Social Learning: A Way of Life
With the Internet exploding with information resources and tools for learning, teachers can be facilitators of information with a greater emphasis on explanation and critical thinking as opposed to the dissemination source. Formal learning systems have in some cases been slower to adopt this model, rightfully concerned with the accuracy of material and consistency; yet with ever-increasing numbers of individuals accessing information in learning environments, the necessity of these formal systems to adopt technological change is very clear.
Where once a rote chapter on the Renaissance movement devolved into students losing interest and ultimately forgetting the lesson, now augmented reality technology enables learners to have an immersive 'experience' of the Renaissance era. For the current generation of 'digital natives' who start using tablets and smartphones even before they can talk, social learning is not an alternative but an inherent way of life. The challenge becomes how to ingrain the knowledge of the teacher, their skills, and efficacy in explanation into the almost infinite expanse of knowledge that students get through shared Facebook posts, Twitter links, YouTube videos, Quora threads, or any number of constantly emerging and growing online resources.
Considered from this angle the challenge is really an opportunity to merge the ubiquity and deep capacity of information present in these platforms with the inspiration and commitment of teachers to students constantly improving and dedicated to advanced learning. Social learning is already proving to be not just an alternative system, but the growing norm and tool that will shape the education of tomorrow.
Is your Learning Management System ('LMS') Social Learning Friendly?
Advertisement
Due to the multiple access points of information, students need less direction to find a particular piece of knowledge. What students do need is a secure and structured environment where they can use the resources of their choice (including text, audio, and/or video) to discuss, communicate, and collaborate. Learning can then be more engaging and interactive. While learning platforms have long been integral to school and college education, in some cases existing tools and systems have not kept pace with the rapidity of technological and innovative change to deliver a truly collaborative learning experience. In many cases Learning Management Systems (LMS) are either restricted to automating formal learning or only add in a few social media tools to round off their delivery model.
An LMS is fundamentally a framework by which students and teachers can integrate their learning on a unified system. Because of the diversity of source material, educators and students need a secure platform that allows them to work on shared documents, make and exchange notes, start live chats and conference calls, or start a discussion thread with fellow students. The differentiators from a traditional approach include flexibility, reach, scope, and scale that allows students and instructors the freedom to engage and explore the material on their terms. With the vast amount of content available, coupled with the diversity of platform delivery options, the importance of a structured system to provide seamless integration offers a knowledge advantage.
This single-point secure encrypted environment prevents any possibility of the content getting leaked or any copyright violations. Additionally, from a learning perspective, benefits to the students and teacher include multiple device access, remote learning, testing, and assessment fluidity and comprehension advancement leading to higher-level offerings.
Technology is increasingly embedded in the work/life equation, now educators and learners need a smart platform, commensurate with intelligent technology, which saves every interaction with the context of the topic, section, notes, and other reference materials along with a date and time stamp, creating a robust content archive, allowing for access at any time.
Tools like Skype, Google Drive, OneNote, OneDrive, Zoom, and others are some of the most widely used channels to share content, communicate, and work together. Integrating these cloud technologies with learning management systems is critical for making a digital education platform truly social, interactive, and value-driven. For students and teachers relying on multiple tools to share and access different forms of content or different channels, difficulties, and complexities arise that can burden the learning process. A unified interface that drives all activities is far superior for making social learning integral to digital education.
Content gamification is yet another vital aspect of social learning. As educators, it is important to have an LMS (here are a few LMS Design Tips) that goes beyond the standard leader boards, point, or level system. Number games, word puzzles, and even inter-team quiz contests after the end of every chapter or section can truly get the ball rolling, leading to more learners participating, working in groups, and getting more engaged.
Students of today are the workforce of tomorrow. Future workplaces are all about using modern tools of communication and collaboration to work in virtual teams spread across locations. Thus, social learning at an early age is now essential to create a future-ready skilled workforce that is adept at self-organized learning, knowledge sharing, and working seamlessly with teams.
This post has been updated from a 2015 post by the author
Krish Kupathil is the founder and CEO of Mobiliya, a world leader in enterprise mobility and education products. Krish has led the company to build innovative products in enterprise and military level security, collaboration and communication for the fast-growing BYOD model in enterprises and enterprise device management; Are You Prepared For The Future Of Social Learning? adapted image attribution flickr user vancouverfilmschool