Using The QFT To Drive Inquiry In Project-Based Learning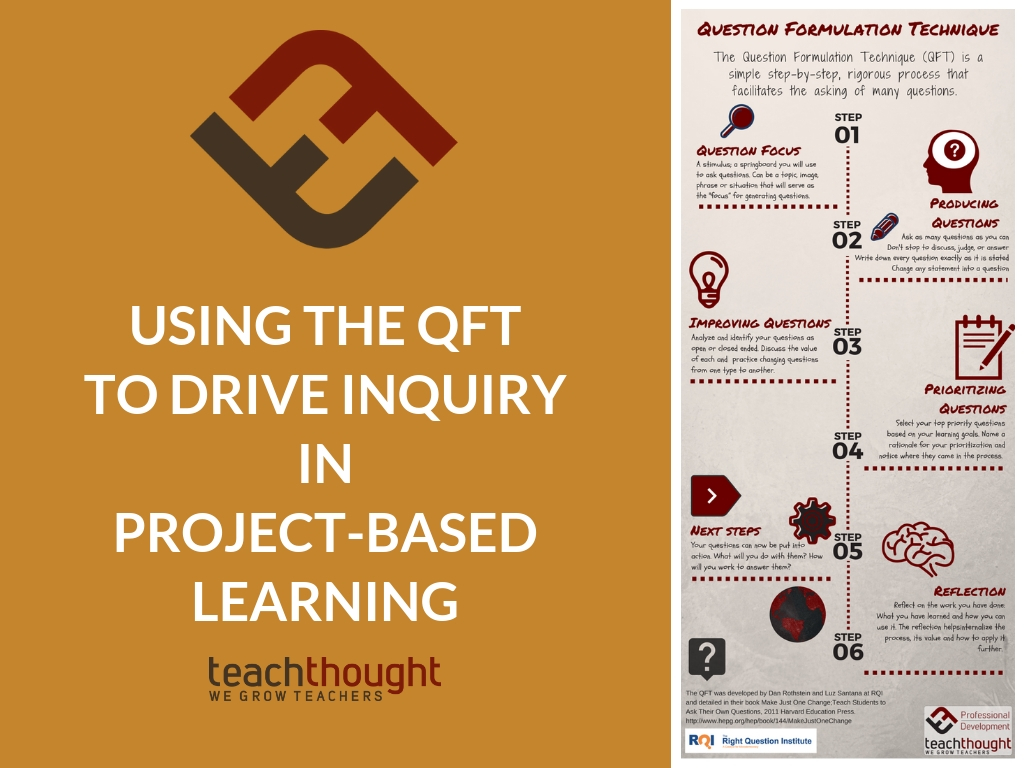 Using The QFT To Drive Inquiry In Project-Based Learning
by Drew Perkins, Director of TeachThought PD
Inquiry can be a powerful teaching and learning strategy.
When I came across the Question Formulation Technique by the Right Question Institute while reading A More Beautiful Question by Warren Berger, I was excited for such a simple yet powerful tool to increase the quality of student inquiry. While there are many ways you can use the QFT in any classroom, and the Right Question Institute (RQI) provides some great examples on their website, it can be a valuable tool in a project-based learning setting as well.
This type of rich inquiry elevates student autonomy and collaboration in a "Yes, And" sort of way and helps create a culture focused on safety in discovery rather than intimidating teacher coverage.
Taking a look over the infographic you'll notice the QFT starts with a Question Focus. This is something that typically pushes the learner to take a side or provoke deep thought. Students then produce questions in a sort of 'question-storming' way that works best when they all contribute (in small groups) on one large chart paper (see video below) or whiteboard.
The synergy that can build from this type of collaboration is powerful as students essentially 'Yes, and…' the thoughts of others without judging or working to answer these questions. As the RQI folks note, the shift from being asked for answers to being asked for questions can really be powerful in building a safe learning environment. As students improve and work through the remaining steps of the QFT the opportunities for meta-cognition are rich and should improve as they become more comfortable with the process.
In the course of a PBL unit, there are several phases and I can see the QFT being used in all of them. Initially you want to create some sense of cognitive dissonance or emotional engagement around the project's challenge or problem and the QFT can help do that by using it as an Entry Event and hook. It's possible to use the QFT  in a professional development setting to generate questions around data showing drops in student engagement and questioning over time.
Advertisement
Then, we use these questions to clarify the purpose in our resulting Driving Question for the workshop. As a classroom teacher you might engage students in the QFT as a way to better understand student passions and interests (Genius Hour, for example) and use that data to design a project weeks later but using a powerful Question Focus to kick your project off can generate student interest and excitement while activating their schema and helping to start your Need to Know list.
During a project there should be multiple opportunities for meaningful assessment as students work toward craftsmanship and refining their products. What if you used the QFT to assess student understanding of a text or teaching resource/material and generate meaningful conversation much in the same way a Socratic Seminar might to help spur deeper learning and differentiate?
It is also possible to use the QFT process in the service of helping students struggling to move forward with an iteration or just needing peer critique and most certainly in helping them add to their Need to Knows. What if you engaged students and experts collaboratively in the QFT around student products in a way that helped them display their thinking like and alongside actual content area experts?
As you're coming to the end of your project what if, instead of giving a traditional test, you used the QFT as a summative assessment as the video below shows? While this might force you (and your students) to think differently about summative assessments, a teacher/facilitator can learn a tremendous amount about content understanding while engaging students in critical thinking.
Conclusion
Ultimately, the QFT is a multi-faceted tool and the beauty of it is in its simplicity. It helps students have more of a voice and helps teachers shift from being the center of attention and thinking to to the facilitator creating scenarios allowing for great questions that effective PBL demands. It also helps create a mindset and culture where students become resourceful and empowered by their inquiry because it's just that, their inquiry. As teachers we need to ask great questions but we also need students to ask great questions.
They have them, but often aren't asked to share in meaningful ways. Designing great learning means we're asking questions important to our students and presenting them with opportunities to do the same. This can be a challenge at all levels but the QFT can help.
Using The QFT To Drive Inquiry In Project-Based Learning
13 Brilliant Outcomes Of Project-Based Learning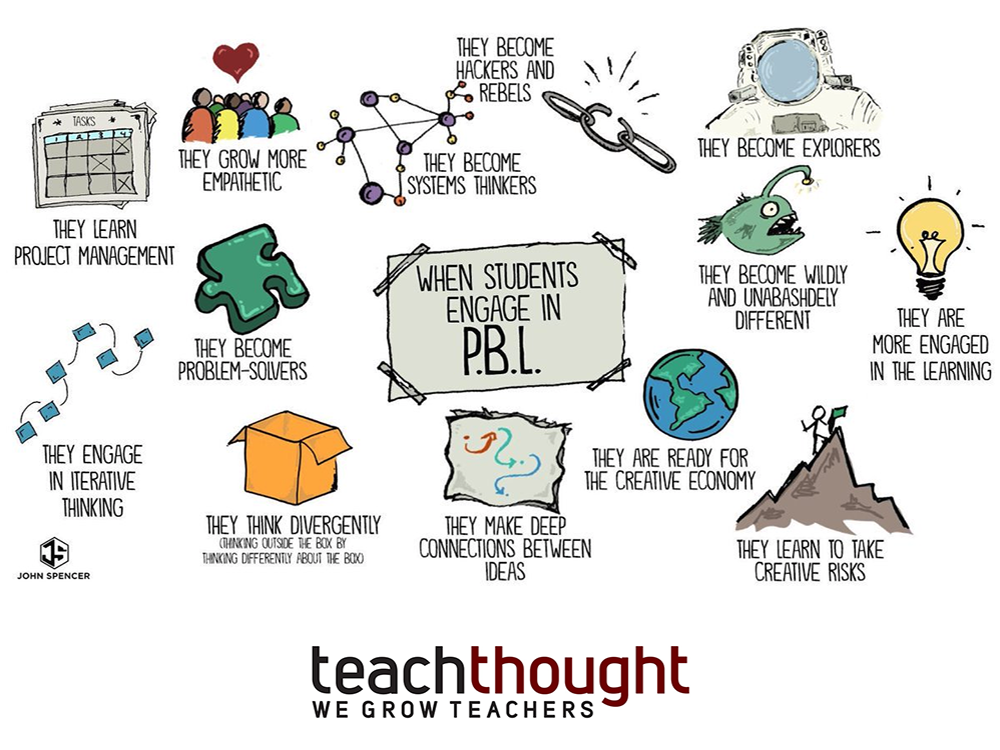 13 Brilliant Outcomes Of Project-Based Learning
by Terry Heick
Project-based learning isn't a 'trend' any more than mobile devices are a trend.
Mobile devices–smartphones, for example–simply provide a (physical) framework to host hardware (e.g., iris scanners, cameras, etc.) and software technology (e.g., an operating system, apps, etc.) These devices in and of themselves aren't as much of a 'trend' as are the things that they enable. Project-based learning is kind of like that.
As the name implies, project-based learning is simply learning through projects. What is being learned and how that learning is being measured isn't strictly dictated by the project and any products or artifacts within that project. Rather, the reverse should be true: the desired learning objectives should help dictate the products and artifacts within the project.
For example, instead of wanting students to plan a garden as the core of the project, then deciding which learning objectives and academic standards fit that idea, planning backward–looking first at the learning objectives and academic standards, then brainstorm project ideas and components of that project (audience, purpose, duration, etc.) This can be useful in making sure that in the course of completing the project, they are actually learning what you want them to learn. That is, you can help align the work of the project with the desired learning outcomes and objectives.
(To further complicate matters, there are also different types of project-based learning.)
For whatever reason, PBL is widely misunderstood—which is why I was happy to see the following graphic from John Spencer, who allowed us to share it with you along with our other PBL resources. The graphic clarifies 13 potential outcomes of well-designed project-based learning. Obviously, not all are true every time for every student in every project in the same way that not every app on a smartphone works well, nor does every bit of hardware function the way it's intended to.
It's all a matter of design and quality.
Interested in learning more about quality teaching project-based learning? You can contact us about bringing this learning framework to your school through our professional development for project-based learning.
For now, on to Spencer's outstanding graphic. For each potential outcome of PBL, I added a tip or strategy to help increase the chance that this potential is realized. Add any tips of your own in the comments below, and let us know what future PBL content you'd like to see that would help you as a teacher.
13 Brilliant Outcomes Of Project-Based Learning
1, They learn project management.
Strategy: Use a project management board–even one used primarily by adult professionals–to help students manage individual or team projects. Trello is a great example, as is Redbooth.
2. They grow more empathetic.
Strategy: Begin project-planning with a specific audience with a specific and pressing concern.
3. They become hackers and rebels.
Strategy: Let students design their own projects. Or require that projects iterate or counter existing cultural trends and patterns or that address compelling social concerns (e.g.technology addiction).
4. They become systems thinkers.
Strategy: Use concept-mapping before, during, and after the project is completed.
Advertisement
5. They become explorers.
Strategy: Design projects that require students to combine both a physical and digital presence and physical and digital 'behaviors' and contexts. For example, a social media component combined with a local, community-based outcome.
6. They become problem-solvers.
Strategy: Use problem-based PBL–that is, projects based around a problem that requires critical thinking to solve.
7. They become wildly and unabashedly different.
Strategy: Give 'points' or other encouragement mechanics to reward students who deviate in some way that improves the quality of the work. For example, add a 'free letter grade' increase for students who take risks or develop 'non-traditional' solutions to otherwise 'traditional' social problems and concerns.
8. They are more engaged in the learning process.
Strategy: Create checkpoints in the project's life-cycle–or better yet, have students suggest their own checkpoints, then be responsible for that checking in, what kind of feedback that would be useful and from whom, etc.
9. They are ready for the creative economy.
Strategy: Give students the opportunities to use their specific gifts, skills, and backgrounds in completing the project.
10. They engage in iterative thinking.
Strategy: Use model-based learning that allows students to identify and transfer existing ideas into new contexts and applications. For example, allow students to take an idea (Amazon's platform business model) and apply it to family businesses, recycling programs, or creative efforts like music and art.
11. They think divergently. (Thinking outside the box by thinking differently about the box.)
Strategy: See #3 and #7. Make 'deviation' a core tenet, then model and reward it.
12. They make deep connections between ideas.
Strategy: Use cross-curricula planning–projects that include multiple content areas. This complicates the planning, but it also makes it more immersive academically. And like #4, concept mapping is a useful way to help students see the relationships between ideas.
13. They learn to take creative risks.
Strategy: Help students brainstorm the opportunities for creative risk-taking at the beginning of a project. Sometimes they're not even aware of the kinds of risks that can be taken in PBL–from the scale of a project and its audience and purpose, to kinds of collaboration partners brought into the project and their talents and skills.
Also, give them a chance to change course if things aren't working out as they thought they might.
13 Brilliant Outcomes Of Project-Based Learning
Moving Students From Consumers To Creators To Contributors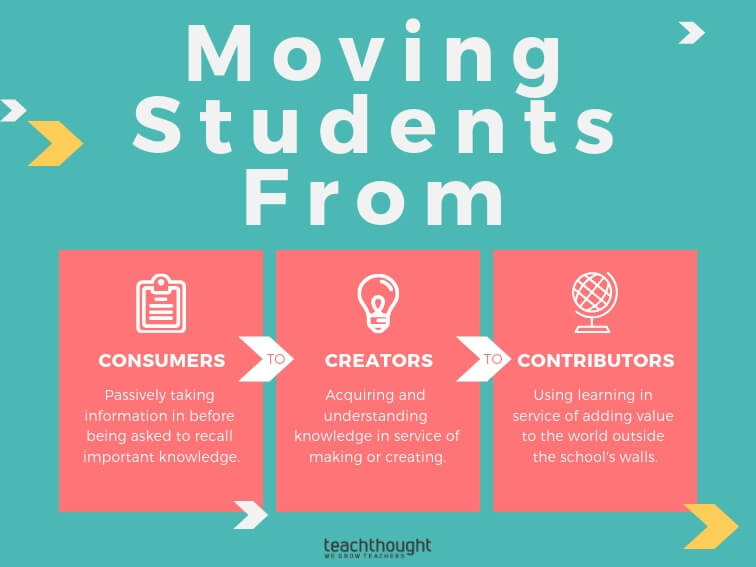 Moving Students From Consumers To Creators To Contributors
by Drew Perkins, Director of Teachthought PD
The oft-shared John Dewey quote "Education is not preparation for life; education is life itself." is one that resonates with progressive educators around the world. Our education system however, seems to have missed all of those tweets and Pinterest pins.
In a recent podcast (listen below) with Getting Smart's Emily Liebtag, I mentioned moving students from consumers to creators to contributors. Justin Tarte had said this in my TeachThought Podcast with him and I appreciated that language. It certainly is a great step to shift our teaching and learning from having students just consuming information to the top of Bloom's taxonomy where they are creating. That next step, however, where their creations are at least potentially adding value to their community and perhaps the world at large is powerful.
While it's true that our students are indeed the future, there are real reasons why we need to remember that they are also a big part of our today and our teaching and learning should reflect that.
[READ] Getting Smart Podcast | The Ripple Effect: Creating Community Change through Schools
One of my favorite projects of a teacher I've worked with as a facilitator of a PBL workshop is mentioned in the Getting Smart podcast above. Penn High School Science teacher Diane Bowersox empowered her students to help their community that was dealing with water quality concerns by organizing an event where people could get their water tested.
As this news story shows, Penn High School students raise awareness about the dangers of nitrogen in drinking water, used their learning of chemistry to help community better understand their water quality. While Diane was initially a little concerned about how many people would take advantage of this event it turned out her students tested water for 8 straight hours. As she notes in the news story, "I hope it leads them to feel like 'hey, I can be involved in the community and make some kind of impact." What a great example of student work contributing!
Education has the power to change communities but sadly our schools often play a marginalized role in their neighborhoods. While it's certainly true that schools can and should grow students for their futures that doesn't mean that they can't also add value to the world while doing so.
Advertisement
Stephen Ritz has seized the opportunity to do just that where his students are transforming the food desert of the Bronx with the Green Bronx Machine. Watch the video to the right and you'll feel his passion but you'll also notice the blurring of the lines between school and the so-called "real-world" because his student's creations are contributing to their neighborhood AND they are learning through the process.
Disconnecting our classrooms from the world outside of them is a missed opportunity that benefits both the school and student as well as the communities in which they live and serve.
[LISTEN] TeachThought Podcast with Stephen Ritz: Ep. 43 Let's Grow Students With PBL And Urban Agriculture
Another great example of student's contributing to their community is the work being done by the Leadership High School Network in Albuquerque, New Mexico. Years ago I had the chance to visit ACE Leadership High School and see first hand as students used their learning in the areas of architecture, construction, and engineering (ACE) to build and design for real clients in their area. After a successful launch of that school they have since added Tech Leadership and Health Leadership schools in a similar model.
This network has benefitted from the consultation of a friend and colleague, Tim Kubik, whose upcoming book Unprepared for What We Learned: Six Action Research Exercises That Challenge the Ends We Imagine for Education builds upon the thinking he shared in the TEDx video to the left. In Tim's talk he asks the question, "what if standards are the means to the end in mind, not the end in mind itself?"
There's no doubt that rigid curriculum and tight adherence to standards and timelines are a friction point for more authentic and organic learning but it doesn't have to be this way. Shifting our teaching and learning to focus on learning that is relevant to students doesn't mean we can't teach standards. Instead we're looking for a shift in how they are incorporated into the learning.
There are more examples of students engaging in more authentic learning to be found, usually through Project-Based Learning, as this shift gains momentum but not nearly enough. As Tim mentions in his TEDx talk it's time to think differently about instructional design in a way that focuses the learning students participating and contributing instead of doing work to show that "adults are getting it right."
Looking to grow your student and school contribution to community with authentic Project-Based Learning? Contact Us.
12 Of Our Most Popular Articles About Project-Based Learning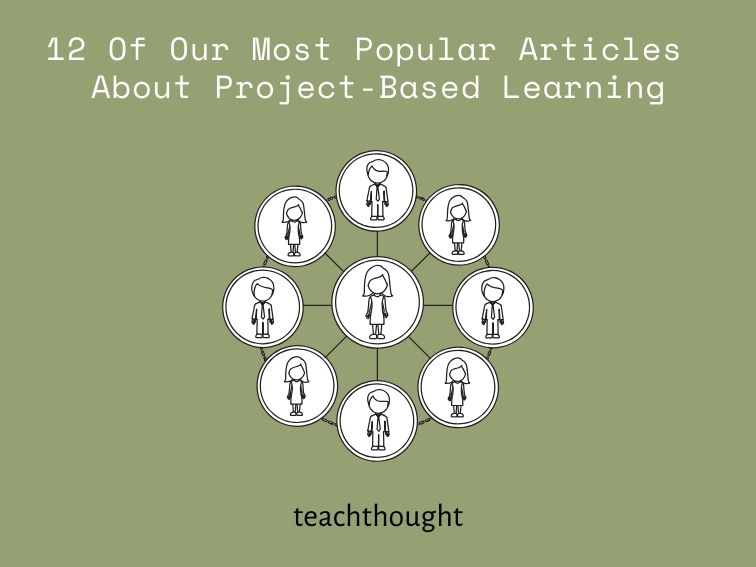 12 Of Our Most Popular Articles About Project-Based Learning
by TeachThought Staff
Project-based learning is a useful framework for unifying many of the elements of 'good teaching' and progressive learning.
With that in mind, we've gathered some of our most popular project-based learning articles of the last several years below as we continue to plan and create new content that explores how PBL is changing and growing in parallel with modern trends, knowledge demands, academic standards, and technology.
You can find all of our project-based learning content and our search page to find exactly what you're looking for.
1. The Difference Between Projects And Project-Based Learning
Excerpt: "While project-based learning (PBL) also features projects, in PBL the focus is more on the process of learning and learner-peer-content interaction that the end-product itself."
2. 25 Questions To Guide Teaching With Project-Based Learning
Excerpt:
"What role is the learner assuming? Designer? Engineer? Brother? Artist? Cultural Critic? Naturalist?
What is their purpose? What are they doing, and what should the project itself 'do'?
Who is their audience? Who is the audience of the project's design, impact, or effect?"
3. 50 Smart Ideas For Project-Based Learning
Excerpt:
"Inventory the world's most compelling ideas in an elegant and browsable interface.
Problem-solve 'screentime' for yourself and family (identify problem, overcome those challenges, monitor progress, evaluate effect of changes, etc.)
Solve the problem of negative and/or 'fake news.'"
4. 3 Types Of Project-Based Learning Show Its Range As A Learning Model
Excerpt: "Challenge-Based Learning is "an engaging multidisciplinary approach to teaching and learning that encourages students to leverage the technology they use in their daily lives to solve real-world problems through efforts in their homes, schools and communities."
5. 8 Switches To Update Project-Based Learning In The 21st Century
Excerpt: "Letting go of a formulaic approach to PBL is helpful for revealing its real potential as an investigative and design process that leads to outcomes other than those designated by the system. It is not enough to 'meet' standards or, worse, 'exceed' standards. At its heart, PBL is a creative learning experience that gives students parameters, guidance, and evaluative feedback as they construct new knowledge, solve open-ended problems, or practice the skills of innovation."
6. 16 Questions To Help Students Brainstorm Project-Based Learning
Excerpt:
"6. What is the history of this problem?
Advertisement
7. Why have previous efforts to solve it fallen short?
8. What is the proper scale I should approach this issue to do my best work?"
7. 4 Phases Of Inquiry-Based Learning: A Guide For Teachers
Excerpt: "The nature of inquiry is ideally both curiosity-based and fluid. Narrow criteria, restrictive rubrics, and other traditional artifacts of 'school work' can stifle inquiry at this point of the learning process. The teacher's role at this point in the learning process is focused on resources, modeling curiosity, and cognitive coaching."
8. 7 Essential Ingredients Of Project-Based Learning
Excerpt:
"1. A Need To Know
2. A Driving Question
3. Student Voice & Choice"
9. 5 Powerful Teaching Strategies For Project-Based Learning
Excerpt: "High quality authentic project design is about helping our students learn by experiencing real challenges and seeing their creative, relevant solutions come to life in the products they construct."
10. 12 Timeless Project-Based Learning Resources
Excerpt: "Project-based learning often involves students working in pairs or groups, thus facilitating a deeper understanding of cooperation and communication in solving problems. Ready to try project-based learning in your classroom? These tried-and-true resources are sure to get you on the right track."
11. Project-Based Learning in Math: 6 Examples
Excerpt: "Students will form design teams to create a map showing how the arena can be converted for the two sports. The map will be accompanied by a hand-built model or a digital design using Google SketchUp or other tool. In the final presentations, the map and design ideas will be presented to the local City Council."
12. 4 Keys To Designing A Project-Based Learning Classroom
Excerpt: "Think information access. PBL is not a paper-pushing style of learning. Students need access to chalk or white boards, reference books, and art or presentation supplies–in addition to search engines, social media, periodicals, and more. Young children are often spatial and tactile learners, so it helps to divide these multi-disciplinary classrooms into subject-themed areas that organize and display manipulatives, learning materials and other supplies."
Bonus: 42 Fill-in-the-Blank Prompts For Students To Design Their Own Projects
Excerpt:
1. Clarify…for…using…
2. Stylize…without changing…
3. Illuminate…so that…
12 Of Our Most Popular Articles About Project-Based Learning